From real cats on the employee roster to trick-of-the-eye architecture, 1o secrets and facts behind Disneyland in Anaheim.
1. Picking Up on That Feline Beat: Disney's Cat Employees

disneyland secrets
Who wouldn't want to be one of Disneyland's resident cats? You heard right. At night, after Mickey and Minnie are safely at home, Disneyland releases its "mousers" – hundreds of feral cats employed by the park to control its mouse population.
So what's the story? Turns out the cats were an accidental hire that just so happened to stick around.  They started showing up of their own accord at nights soon after the park opened in '55. Rather than trying to herd them off, the park figured they could use them to their benefit.  The cats are probably getting the better end of the deal because when they aren't scoping free food, they're catching a cat nap and Aristocatic harmonies at one of five feeding and lodging stations in the park.
2. A Unique Perspective on Main Street, USA
disneyland secrets
The design of Main St. uses a technique known as forced perspective to create an illusion of height – to make adults feel small and capture the charm of a truly small town. The first level of all buildings on Main St. were built at 3/4 scale while the second story was built at 5/8 scale, and the third story at 1/2 scale.
3. The Truly Haunted Mansion?
According to former Disney employee David Koenig (in his 1994 book Mouse Tales), tourists  are mostly responsibly for "haunting" the Haunted Mansion.  Apparently it all started when a tourist group requested extra time on the ride so they could have a quick memorial for a young family member.  Disney allowed it, unaware that the family had secret plans…
The memorial commenced as the ride began, but the family did not keep all legs and arms inside the Doom Buggie.  In fact, they were seen scattering ashes along the track and no one knows how much they left behind before the ride could be closed and immediately cleaned.  Since then, handfuls of families request permission to scatter loved one's ashes throughout the park, but Disney spokespeople confirm the answer is always no.
4. Gobble Gobble – Disneyland's VIP Turkeys
From time to time, the Big Thunder Ranch serves as the new home for presidentially pardoned Thanksgiving turkeys.
5. Leave the Light On
Walt Disney had his own apartment at Disneyland for when he needed to work late. His quarters were built above the Main St. Firehouse and he took up residence before the park even opened. Cast members used to know Walt was on premises when the light was on in his window. Since his death, the light is always on.
6. Fishin' at the Rivers of America
There was once upon a time when you could actually rent a pole and fish from Tom Sawyer's island. An area around the island was stocked with fish. The attraction was meant to rival a similar one at Knott's.
7. Safety & Maintenance
Rides are routinely checked, maintained, and inspected to meet rigorous regulations. How often? Every single night.  There are approximately 1, 000 hours of daily inspection done across all park rides.
8. Handcrafted Quality
Many of Disneyland's rides, signs, and props are hand painted! Check out this Disney video interviewing a resort painter: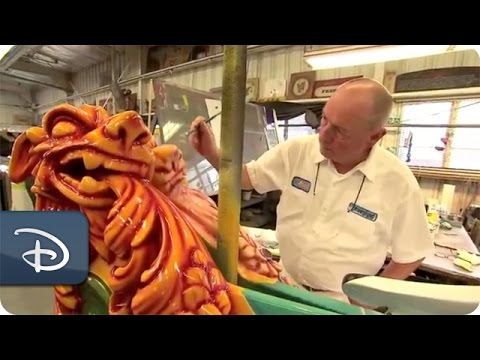 9. Rowed Over
Disneyland's Resort Cast Activities Team has put on an annual Canoe Race since 1963.  Over 70 teams of 10 cast members race around Tom Sawyer's island in a gruelling competition that lasts five weeks.  But when do they do it? By early morning light before any guests have arrived at the park.
10. Dyslexic Name Dropping?
While waiting in line for Star Tours you'll hear  "Egroeg Sacul" being paged.  That's "George Lucas" spelled backwards.
10 Secrets and facts behind Anaheim's Disneyland
This article is brought to you by one of the many talented writers associated with Locale Magazine! We are a group of locals (whether born and raised or transplanted) who love this county we now call home!