Fall in Love With These Five High Desert Airbnbs
With its adventurous landscape, scattering of local shops and eateries along the highway and a brilliant showcase of the cosmos illuminating the night sky, Joshua Tree and Twentynine Palms have attracted serenity-seekers and sun-chasers alike for years. But don't worry if you're not much of a camper, you don't need a tent or an RV to get the full high-desert experience! Here are three truly spectacular Airbnb properties that complement and pay homage to this beautiful destination.
All Play, No Work
JT Playhouse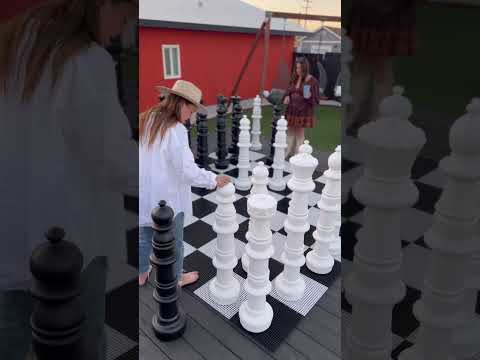 If your vacation includes slamming your laptop shut and being present with the people you're with, this is the house for you. JT Playhouse is Joshua Tree's paradise for unplugging and unleashing your inner child. This sprawling property features an outdoor pool, hot tub, fire pit, bar, movie theater and more! And for those looking to get their game face on, the house also has an abundance of multi-player games, including ping pong, bocce ball, pool, corn hole, air hockey, poker, and retro arcade games! It even has an outdoor bowling alley, giant chess board and snack vending machine for when you get the late-night munchies. Get your friends together and spend a weekend playing at the JT Playhouse!
4/24
High-Desert Hideout
Hangar Hideaway
This amenity-packed oasis is perfect for a relaxing desert getaway. Hangar Hideaway sits in the heart of Joshua Tree, just minutes from local spas, vintage shops, saloons, breweries and more. The property itself is spacious and surrounded by rugged desert terrain—prepare for plenty of photo ops. Inside, you'll find the Hangar Theater and Bar for all your entertainment needs, a game room packed with board games, a pool table, arcade games, foosball, darts and ping pong! However, you'll want to spend most of your time outside as some of this house's best amenities reside outdoors. Lounge in the hammocks, hop in the hot tub to relax after a long day of hiking or kick back in the Outdoor Dome, which features a bed and a stellar view of the stars at night. Hangar Hideaway is the ultimate J-Tree retreat.
4/11
Modern Boho Chic
Melrose Mirage 
This Joshua Tree oasis, professionally managed by Hygge Home Rentals, is a modern, boho Airbnb situated in the heart of the desert. With three chic bedrooms, this home sleeps up to six guests while featuring some stunning amenities. The custom outdoor waterfall shower is a refreshing change of scenery, the hot tub is situated ideally for stargazing and the game room is stocked with a poker table, ping pong table and darts. Wake up early to watch the sunrise, lounge in one of the three hammocks and catch some desert sun rays before chilling out by the fire pit at night. Plan a trip to J-Tree with family and friends for a few days away—we think this is the perfect place to stay.
Total Heart-Acre
If you're in the mood to go off-grid, then look no further than The Hive, a sweet and cozy three-bedroom home with Boho-inspired design and plenty of wilderness to explore. The property consists of four acres surrounded by over 30 additional acres of land, meaning that you'll have access to stunning views, remote hiking trails and total tranquility. After a day out exploring the trails on the property, Twentynine Palms or Joshua Tree National Park, head back to The Hive to enjoy an evening under the stars, where you can play plenty of yard and board games by the outdoor firepit or splash around in the cowboy pool. The Hive is great for families with kiddos and can accommodate up to two travel-friendly pups as well.
Brighter and Boulder
Terracasa
Whether you plan on going rock climbing or your itinerary strictly states to stay on-site, you'll love the homey feel of Terracasa. Located near the National Park's entrance, this property accommodates up to four guests, so it's the perfect rental for families, your squad or even just you and your boo. The one-of-a-kind decor and gorgeous amenities like the outdoor shower, hot tub and cozy patio offer major vintage vibes that will make the perfect backdrop for tons of new memories. 
Rustic Renaissance
Arro Dunes
With its expansive windows and 360-degree mountain views, Arro Dunes is an incredible spot to relax and unwind. You'll love rising out of your plush queen-size bed to a stunning landscape and spending the day in the famous high desert sunshine. Soak up some rays on the property's deck, where you'll find a 10-foot tank pool and unobstructed views of the surrounding unfenced acres. Then, as the sun sets, snuggle up in the outdoor dining space and enjoy a special dinner al fresco. Bon appétit! 
Minimalistic Musings
Villa Kuro
Trust us, this is the ideal place to press pause on your busy life and reconnect with nature—no Bluetooth necessary. The design at Villa Kuro is minimalistic and inspired by the Japanese wabi-sabi aesthetic, which focuses on humble designs and accepting imperfection and transience. For the perfect day, enjoy the sunshine in Villa Kuro's courtyard or intimate conversation in the property's tea room. You'll get your escape, but after a stay here, you'll feel more connected than ever.
Must-Sees in J Tree
Experience the Best of Joshua Tree With This Fun-filled Itinerary
8 a.m.
Wake yourself up with a quick walk on the Skull Rock Discovery Trail. 
High Desert Airbnbs
10:30 a.m.
Head to Joshua Tree Coffee Company for the best cup of coffee you may ever have—seriously. 
11 a.m.
Browse for new pieces to add to your crystal collection at Joshua Tree Rock Shop.
12:15 p.m.
Visit the World Famous Crochet Museum; it's tiny, quirky and totally unforgettable.
High Desert Airbnbs
1 p.m.
It's 5 o'clock somewhere: treat yourself to a cold one at Joshua Tree Brewery!
3:30 p.m.
Head out to Joshua Tree National Park—JT's crown jewel for hiking and bouldering.
7:30 p.m.
After a busy day, refuel with a juicy burger at the Joshua Tree Saloon.
Born and raised near the Pacific Coast, Jordan Nishkian is a California girl through and through. She graduated from Cal State Long Beach with a BA in Creative Writing and a BA in Anthropology, and her favorite place to be is curled up in a comfy chair with a book in her hand and a pen in her hair.