From Desert X to the Palm Springs Art Museum, Check Out These Exhibits
Art can provoke thoughts and opinions, unite or divide, inspire feelings and motivations, change hearts and transform communities. The Greater Palm Springs art scene hits differently with more than great galleries and museums to offer. Murals, sculptures and colossal installations enhance the beauty of this desert oasis and complement its particular environment. You don't have to be an art connoisseur to fall in love with the creative energy surrounding you. With so many unique pieces, there's something for everyone to enjoy. We've rounded up the six best ways to experience art and culture in Greater Palm Springs.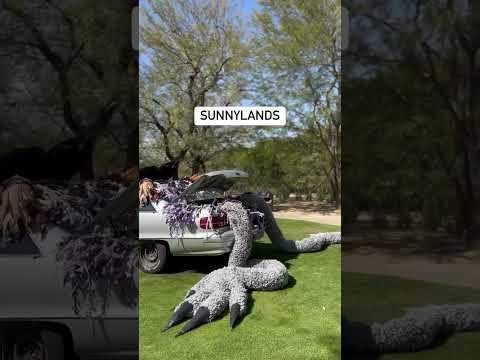 The Installations of
Desert X
View this post on Instagram
Desert X is a collection of international artists with ideas too big to be contained within the walls of a museum, making Greater Palm Springs' vast open areas a perfect outdoor gallery space. The Desert Biennial, a nonprofit organization, brings its contemporary art exhibition of massive size to Greater Palm Springs for the fourth time, running now through May 7. The 11 installations are site-specific and as large as they are meaningful. Each artist responds to local social and cultural issues, such as climate change and social justice. One of this year's must-see exhibits is a lace-like steel sculpture of a life-sized blue whale heart created by Lauren Bon and Metabolic Studios. This stunning object is submerged in a pool pumped full of Salton Sea water to represent the fact that the Coachella Valley was part of the Gulf of California millions of years ago. 
Greater Palm Springs is full of energy, culture and creativity. Before the 1900s, the Cahuilla Indians wove baskets decorated in red, black and yellow. They crafted pottery water vessels that also served as creative expressions. Artistic freedom is part of Greater Palm Springs' heritage, and the ability to view art is just as encouraged. To help you experience the abundance of art throughout the destination's nine cities, the artsGPS app provides you with the knowledge and freedom to check out more than100 outdoor installations. You'll be able to find more than outdoor art too. The app makes searching for gallery exhibits and other art-related events easy! While taking in the local masterpieces, you can even use the app to pick a spot to eat, find a hotel or book a flight.
View this post on Instagram
The sunlight shifts on the mountains and through the desert landscape like nature's Sistine Chapel. It's no wonder Greater Palm Springs' unrivaled and distinct beauty captivates so many, particularly those with a creative side and a love for self-expression. The Art & Sol Series is a collection of videos introducing local artists in the community. Set up like a documentary, viewers can get a glimpse inside the minds of Greater Palm Springs' most innovative makers. The series features seven local creators from different backgrounds with distinct artistic styles, from a geometric abstract painter and a drag queen to a fashion designer and more. From artists like Shag, Tysen Knight and Barbara Gothard, you'll find out what inspired them and hear their stories in their own words. The intimate direction of the film will invoke a connection inside you, and seeing their artwork around the cities will feel even more meaningful. 
10/5
The Coachella Valley features a beautiful plethora of large-scale murals adorning the exteriors of buildings, utility boxes, the streets themselves and pretty much anything else that can be used as a canvas. Many of the murals are interactive, and even those that aren't make a perfect TikTok backdrop—especially the gorgeous Colette Miller Wings at The Rowan Palm Springs. First shown at Coachella Valley Music & Arts Festival in 2018 is Etherea, Edoardo Tresoldi's completely captivating sculpture of a structure made of mesh-like wires. Inspired by Neoclassical and Baroque architecture, it creates a mirage of lines under the sun. This piece currently resides in downtown Coachella and will live rent-free in your head long after your visit.
7/11
Mentioning public art in Greater Palm Springs and not bringing up the area's distinct architecture would be blasphemous! Greater Palm Springs is synonymous with midcentury modern—the region basically put it on the map. Desert Modernism is the term the locals use, combining minimalist lines with the environment and a love for the indoor/outdoor lifestyle. Many significant architects, such as Donald Wexler, practiced in Palm Springs. In 2012, one of his steel houses was the first midcentury modern structure placed on the National Register of Historic Places. It is a private home, so please respectfully marvel at it from the street. Architecture Tours by Modernism Week are available to help you admire these 20th-century buildings and homes. PS Guided Tours shows you around in a mini-coach or bicycle while giving you background on the talent that designed them.
6/21
With plenty of museums to peruse, the first should be the Palm Springs Art Museum downtown. Founded in 1938, it has moved several times, was renovated in 1974 and finally landed where it is today. The institute is a world-class museum with notable exhibits focused on visual and performing arts. One of its current installations is a car suspended vertically over a pool of liquid, which is on display for the remainder of the year in the lot across from the main entrance. Sunnylands Center and Gardens, designed by architect A. Quincy Jones in the 1960s, is a tranquil space that should be explored at your leisure with rose gardens to smell and a labyrinth to meander through. Other museums worthy of checking out are the Palm Springs Air Museum, Coachella Valley History Museum, and Cabot's Pueblo Museum.
Lauren McCarran is a freelance writer specializing in content creation for media outlets. Her work with numerous publications and brands has helped her develop a unique and engaging writing style. Lauren loves to keep a finger on the ever pulsating world of pop-culture while staying in the know of the latest trends and happenings.