You Won't Be Disrupting Anyone's Date Night At These Spots
If there's one thing we know, it's that the kids are always ready to play. Even if it means missing a meal, they'd much rather be running around; but you're wise enough to know when they need a proper meal. Restaurants aren't all fun and games, but thankfully, some do offer them! As much as you'd rather have a quiet, romantic date night, the kids will be joining you just as often. We've rounded up family-friendly restaurants in San Diego offering activities just as fun as the meals are delicious, so everyone comes hungry (or a little wild) and leaves happy.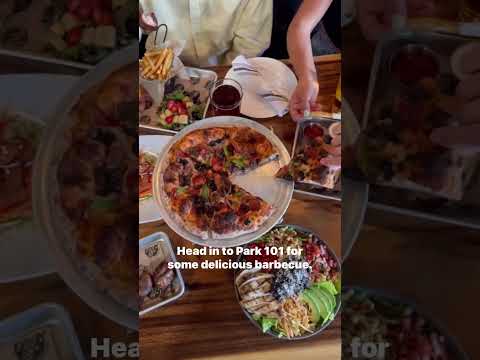 This one's all in the name. Tell your little ones you're headed to the park, and it won't totally be a lie when you arrive at Carlsbad's Park 101. This BBQ hot spot specializes in smoked meats with favorites like the tri tip sandwich and ancho shrimp tacos in their plaza-style complex spread among 8,000 square feet. Pop in for an event like the Padres opening day or the Kentucky Derby and instantly feel at home on the cozy backyard-style patio, complete with plenty of outdoor space for your kiddos to explore.
When trying to find something to eat with the kids, it's hard to beat burgers. Easily dressed up with everything your adult palate loves or stripped down to a kid-friendly meat and bun, a stop at Hamburger Hut in Encinitas is the perfect day out with the family. The kids are free to take a single bite and skip over to the outdoor space that's complete with games and foosball tables while you're able to take in a few moments of you-time. It's casual, it's cute and your burger will be perfectly complemented with one of their craft cocktails.
There are two kinds of parents: those that are too chicken to take their kids out to eat and those that take their kids out to eat chicken. We hope you choose the latter! The Crack Shack is the perfect space to take the entire family to enjoy fried chicken classics while easily satisfying the kids' selective palates with their kids menu. Serving southern San Diego in Little Italy and up North in Encinitas, relax and enjoy an ice-cold beer or cocktail while the kids get competitive at ping-pong or cornhole. This is what we call a family friendly restaurant! 
If there ever were a family-friendly space, it's Draft Republic in San Marcos and Carlsbad. Each location comes complete with virtual golf and a kid-friendly arcade, and the San Marcos location even has bowling and a beer garden for extra space to…give yourself some space. For the beer aficionados, the Carlsbad location houses a whopping 101 brews on tap! Serving up American classics and crowd-pleasing cocktails, the adults are free to unwind and play in their own way while the kids rack up points and earn prizes on their arcade game cards.
6/12
No freedom to choose comes quite like that of a food hall, and when you're out with the family, that's of utmost importance. Liberty Station in Point Loma is home to Liberty Public Market, an indoor space filled with vendors offering everything from gourmet tacos and empanadas to burgers, acaí bowls and so much more. This food hall also has a kids' play area for when the inevitable post-meal energy hits. They've even got reason to be extra behaved—a stroll past the donuts and crepes will have them holding out for dessert.
It's all fun and games at Corvette Diner, an adorable '50s-style diner located in Point Loma's Liberty Station. Pop into the vibrant, pink-lit space and enjoy classic American-fare in a cozy booth. It'll be hard not to immediately order a classic milkshake, but if you can hold out, order Peggy Sue's Pastrami or Breakfast at Tiffany's Burger first while the kids choose from their extensive kids' menu. Get your game on at the arcade after dinner–but not before offering your kids a new hairstyle; they'll do your hair up in straws right at the table!
For when a bit of a fancier family night is in order, The Prado at Balboa Park is the perfect way to treat yourself to a delicious sit-down experience without having to get anyone to watch the little ones! Enjoy pan-seared salmon, duck confit or the chef's cut steak while your kids happily choose from—you guessed it—mac and cheese and chicken fingers! Plenty of indoor and patio seating are both available for any noise that may occur, but after a few of their delicious cocktails, that'll be hardly noticed.
Any family-owned restaurant should be the perfect family-friendly spot, and San Diego's Buona Forchetta goes above and beyond! Now all over from South Park to Point Loma, Encinitas, San Marcos and Coronado, each location's stunning menu and lively atmosphere will make a family night feel like a date night. Choose from adult-favorite pizzas and pastas like cacio e pepe or a simple margherita pizza along with a kids menu stacked with simple pasta options. Bonus points if you visit the Point Loma location: the kids will be torn between the bocce ball court and their cheese pizza.
View this post on Instagram
Pair some pinball with your pizza at Pizza Port, San Diego's delicious yet casual pizza joint with locations all across the city! Order one of their locally inspired originals like the Pizza Ocean Beach or Pizza Carlsbad, or start from scratch and build your own beautiful masterpiece the whole family can agree on. They even brew their own beers—sip on one with every slice through their selection of delectable draft or canned options. While you crack open a couple cold ones, send your kids with a couple dollars to crush the in-house arcade: everyone leaves happy!
Jaclyn is a sunshine chasing San Diego native with an extensive writing background. When she isn't word-smithing, you can find her playing beach volleyball, skating the boardwalk, or on a rooftop enjoying a drink in the sunshine with her pals.