With Popular Stores and Sleek Restaurants, This Lifestyle Hot Spot Is the Place to Be This Season
Carlsbad is known for its breezy, beachy and floral vibe, and its premier shopping destination, The Forum Carlsbad, lives up to the North County city's reputation. This gorgeous outdoor lifestyle center is filled with elegant architecture, vibrant flowers and greenery along with dozens of outdoor patios to unwind and soak up the sun. But, the real draw lies in the hot spot's wide collection of stores, restaurants and fitness studios. With so many options, it can be hard to decide where to eat and browse at The Forum Carlsbad, so we've taken over the planning for you. Check out our itinerary for how to spend the perfect spring day in Carlsbad!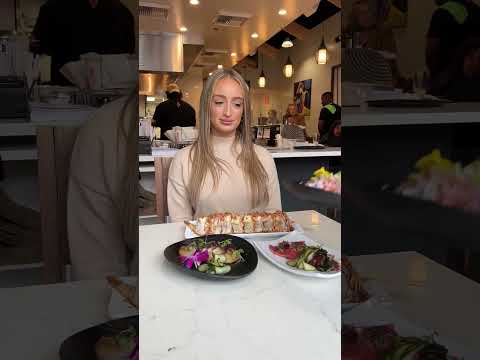 11 a.m. 
Main Squeeze
Kick off the day with a sip of something fresh at Pressed Juicery. Known for its entirely plant-based menu, Pressed offers an extensive selection of health-boosting juices, smoothie bowls, wellness and hydration shots and "Freeze" soft-serve treats. For a taste of green goodness, opt for the Greens 2, which includes apple, cucumber, celery, lemon, spinach, parsley and kale; for a citrus zing, snag a Citrus 1, which features a revitalizing blend of cucumber, pineapple, coconut water, lemon and aloe vera. Health never tasted so good.
11:15 a.m. 
Sparkle in Style
What's a good outfit without a dazzling accessory? Head to The Forum Carlsbad's Gorjana outpost to pick up a new piece of jewelry to complement your wardrobe. This adorable Laguna Beach-based everyday jewelry brand's collection includes a modern and trendy assortment of layering necklaces, dainty rings, earrings and bracelets. And with gold-plated, solid gold and silver options–as well as the choice of fine materials like diamonds, opals, sapphires, emeralds and turquoise–you're sure to find the perfect accessory. We personally have our eye on the Venice Mini Bracelet this season!
6/30
Noon
Shop 'Til You Drop 
Are you ready for a wardrobe and home makeover? We thought so. Stop by Anthropologie for the ultimate shopping trip. Splurge on a new stylish dress, coat or pair of heels at this fashion-forward store. Otherwise, opt to upgrade your kitchen with new cocktail glasses and unique printed plates, or deck out your bedroom with plush, colorful throw blankets and quilts. The store has left no stone unturned with statement outdoor furniture pieces too. Don't forget to check off those on your gift list with aromatic candles, stunning sunglasses and fragrant perfumes for your friends.
1 p.m.  
Let The Good Times Roll 
Shopping can work up an appetite, so satisfy your lunchtime cravings with a meal at The Forum Carlsbad's newest restaurant, Kaiseki Sushi. This sleek restaurant features a wide range of sushi, sashimi and other Japanese-inspired dishes, crafted by Master Sushi Chef Tin Nguyen and Chef Jon Kim, who was Nobu's former sushi chef. Begin your feast with Spicy Tuna Shishito Peppers and Poke Nachos before diving into your choice of sashimi, nigiri and creative specialty rolls like the Catalina Roll, which features spicy kanikama, cucumber, yellowtail, pickled serrano, mustard su and maldon. 
3 p.m. 
Shop Activewear 
Nothing motivates us more to get in a sweat session than a new workout set. So, we're rounding out the afternoon with a stop at Lululemon. Snag a new pair of super soft Align yoga pants for your next power yoga class, or pick up a breathable tank for your next Soulcycle or Barry's Bootcamp class. If you're a runner, be sure to test out a pair of Lululemon's new Blissfeel Running Shoes. Don't worry if you're not the active type—the store has plenty of lifestyle products, including the popular Everywhere Belt Bag.
4 p.m. 
Inspire Adventure 
Prep for dawn patrol, campfire coffees and cocktails and backyard BBQs with a stop at Yeti. This store is packed with handpicked ambassador gear recommendations suited for outdoor adventures of all kinds. Shop the brand's signature coolers in all sizes as well as drinkware like tumblers and mugs. For on-the-go adventures, pick up a waterproof bag or duffel, and be sure to chat with the store reps for insight on local events to embrace San Diego's outdoor scene to its fullest. 
5 p.m.
Wine & Dine
Satisfy dinner cravings with a delicious meal at Urban Plates! This counter-serve restaurant dishes up farm-to-table cuisine that features quality, sustainable ingredients. The menu includes dishes ranging from salads to sandwiches and soups, so everyone in your group will have something to order. Seafood lovers will dig the grilled sustainable salmon, while the cozy crew will love the Moroccan Chicken Braise. Pair dishes with sides like mac and cheese, grilled rustic bread and roasted brussels sprouts with turkey bacon.
6:30 p.m. 
Denim & Dresses
Cap off the day at The Forum Carlsbad with a visit to Madewell. Pick up a pair of the brand's famed jeans (and shorts since summer is around the corner!) in your favorite cut and wash, and be sure to check out the shop's latest dresses and button-downs for a style makeover that evokes both effortless and elevated. Known for timeless designs and quality materials, Madewell also offers up have-forever totes and stunning leather footwear that gets better with age. Be sure to check out the store's selection of jewelry and accessories too!
The Forum Carlsbad
1923 Calle Barcelona
Carlsbad, CA 92009
760.479.0166
@theforumcarlsbad