A Recap of the 2023 Bloom Bash Extravaganza
San Diego's annual Art Alive 2023 took its first breath on the last weekend of March with its most highly anticipated event: Bloom Bash. For the seventh year in a row, San Diego gathered together around The San Diego Museum of Art for a late-night celebration filled with electric art installations, activities galore and the city's best food and drink. The event takes place annually at Balboa Park and kicks off The San Diego Museum of Art's signature annual fundraiser, raising money to support the museum's exhibitions, education, outreach and other public programs. With a dance floor, plenty of photo opps and a Ferris wheel, Bloom Bash brings the fun and pairs it with the limited-time breathtaking art exhibits created by artists far and wide. Here are five reasons to attend next year's Bloom Bash celebration when you're looking for what to do in San Diego in the springtime!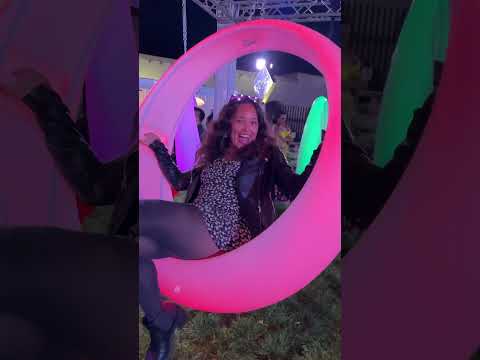 The Hendrick's Gin Bar
Upon entry, the first thought in our head is to get a drink in our hand. Smack dab in the center of the event sat the Hendrick's Gin Bar, which served specialty gin-based cocktails. They served a classic gin and tonic made with Hendrick's Gin and Q Tonic with cucumber and a floral garnish, an Unusual Negroni crafted with Hendrick's Gin, Lillet Blanc, Cappelletti and dehydrated orange and a specialty Honeysuckle cocktail—an effervescent concoction of Hendrick's Flora Adora Gin, fresh lime juice, honey and Q club soda. The Flora Adora is a limited-release Scottish gin with an enticing aroma of enchanting flowers and a fresh, herbal character—the perfect complement to this bloomin' event! And the bar itself was adorned with stunning floral decor from none other than beloved local flower shop Native Poppy, making this quenching station far from your average bar.
Lights, Camera, Action!
For an evening so lavish, it's only right to have a little lights, camera, action. All around the park, attire was a fun formal vibe, and there were plenty of photo opportunities to capture your Bloom Bash outfit in the wild. Photographers could be found seemingly around every corner, ready to catch your group's most candid moments. There was no shortage of posed opportunities, either—a flattering black-and-white photo booth was ready to snap as many photos as your heart desired with immediate on-site prints! Not to be forgotten is the 360-degree slo-mo camera: because nothing captures the night's essence quite like a wrap-around video of your friends' questionable dance moves. 
5/18
Breathtaking Installations 
While it should come as no surprise that art lies at the heart of San Diego's annual Art Alive, what can't be anticipated is the specifically unique beauty that comes with each year's arrival of new displays. Entering the museum, the buzzing volume of the crowd quickly escaped us as we drew in a breath of the fresh flower scent coming from right above—the museum's entryway was spun with thousands of fresh flowers awaiting our arrival! Just up the stairs was an origami escape done by Austin, Texas' Amanda Witucki, who created a room spanning floor to ceiling with papier-mache flowers made to embody a floral oasis—one that begs you to permanently make your escape from the crowds and take in the vast, vibrant paper sculpture for the remainder of the evening.
6/7
Artistic Eats
They don't call it fine dining for nothin'. We prefer our meals to be something of little art pieces within themselves, and it's only fitting that the food spanning the Art Alive event was bite-sized works of art. San Diego's finest craft food (and cocktails) could be found throughout the space with easy pre-prepared, grab-and-go plates at every booth. We warmed up with appetizers like Puesto's passion fruit and mango shrimp ceviche, then moved on to Coast Catering's hearty Cuban panini and ended on a deliciously rich chocolate marble cake by The French Gourmet (and so many mouthwatering options in-between). Even San Diego icons showed up with something sweet—Top Gun House: Home of the Famous High Pie in Oceanside was serving various flavors of its tasty hand pies!
Activities for Everyone
Constantly keeping in theme, Bloom Bash's many activities throughout the park were all colorful and whimsical to keep spirits high and bodies busy! A centrally located Ferris wheel held a steady spin all night long, loading guests and locking in excitement with panoramic bird's-eye views of the event. Located just outside of The San Diego Museum of Art was a light-up dance floor and DJ setup, and for those that knew themselves well enough to know they needed a break, the grassy area beyond the park's Panama 66 housed colorful circular LED swings perfect for a serene garden-like escape.