Pinkies Up! Keep It Classy With a Night Out at These Bars
Palm Springs has forever been an oasis to Hollywood icons since the dawn of the Slim Aarons age. This desert destination is old-school cool with a contemporary twist. A favorite of celebrity superstars like Frank Sinatra and Marilyn Monroe, Palm Springs has always been more than just golf and gabbing by the pool with its plethora of sultry bars and hip haunts. Today, it is a swoon-worthy staycation destination for SoCal natives who want to sip, savor and sun while still enjoying the charm of Hollywood's golden era. Pickleball or pool during the day and belly up to the bar come night. There are plenty of secret spots to get loose and gossip. Curious? Don't worry, darling–we have you covered with the very best boutique hotel bars in Palm Springs.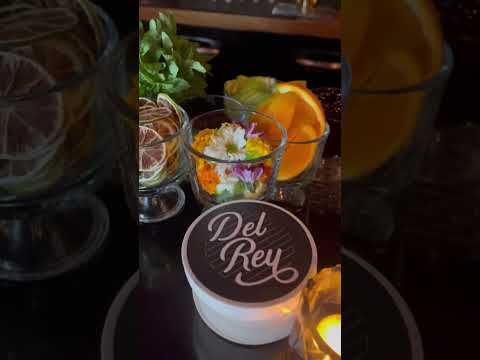 Drink like Adam Levine and order the Heated Snake.
Birba feels more like your rich friend's backyard than it does a restaurant. Located in the heart of downtown Palm Springs, this ultra-organic, outdoor oasis is a must-visit. The bar at Birba is somewhat secluded from the elements since it's located within the only part of the property that is covered, which makes it the perfect place for doing a bit o' boozin', and we think Maroon 5 frontman Adam Levine would be a big fan of Birba's Heated Snake. This spicy tequila cocktail will have you feeling some type of way.
Drink like Dinah Shore and order A Strange Voyage.
It's a shore thing at Del Rey–a Dinah Shore thing. Brick floors and wood ceilings make this place feel a little upside down in a good way. It's kind of like you're drinking in a Cuban cigar humidor with craft cocktails and upscale bar bites. Indulge in A Strange Voyage (in more ways than one), which is a gin-forward fizzy drink built on a base of watermelon shrub and an aromatic vinegar tincture that is slightly sweet yet full of tang. Del Rey is lined with pictures of all the late greats, so be sure to cheers to all the legends who paved the Palm Springs way.
Drink like Bob Hope and order the Cadillac Margarita.
Sometimes you just need a dinner plate-sized margarita, a bowl of chips and maybe a side of queso or guac to cap it all off. El Mirasol at Los Arboles Hotel is classic and consistent. It's not the fanciest girl at the party, but she's cool, she can cook and she serves up a mean Cadillac margarita. Palm Springs legend Bob Hope is said to have loved this small swimming pool-sized sipper, and he got a street named after him, so we'll have what he's having.
Drink like Frank Sinatra and order the Elyx Martini.
Ingleside Inn is as quaint as its name suggests. Blooming with bougainvillea and pops of pink everywhere, it's a backdrop fit for a movie star. Located on site, Melvyn's is as iconic as O'l Blue Eyes himself and the perfect place to find anyone from a crooner to a cougar. A classic deserves a classic, so it'll be the Elyx Martini for Frank Sinatra (and us). It's dry, slightly dirty and served with a lemon twist. Luck be a lady tonight!
Drink like Margot Robbie and order the Shady Lady.
You have ARRIVED. This is the first stop on our list off of Hwy 111; it's the starting line for a staycation in the desert. The pool scene at Arrive Palm Springs is second to none with mountain views and righteous tunes. There's a lounge for every lad and a floaty for your friends. Keep cool with a Shady Lady: a triple-threat cocktail with cucumber, coconut and matcha. You'll feel like Margot Robbie in "Barbie." Drink in plastic—it's fantastic! Their on-site ice cream shoppe is great for a scoop or two, but veterans know it's all about the date shake.
Drink like Lucille Ball and order the Pamplemousse Sparkle. 
This place is an Instagram post all wrapped up in pretty pink wallpaper. Located at the adults-only La Serena Villas, Azucar will have you feeling watermelon sugar high–especially after one of their sandia margaritas. The top level of this ultra-trendy restaurant boasts a rooftop complete with a fireplace, twinkle lights and photo-friendly decor. Channel your inner "I Love Lucy" and cheers over a Pamplemousse Sparkle while overlooking the pool. This cucumber grapefruit fizzy cocktail will have you giggling like Lucille Ball by the end of the night. This is a great spot to hit with the gal pals.
Drink like Marilyn Monroe and order the Mexican Summer Negroni (or a glass of champagne). 
When in doubt, head for L'Horizon. This upscale resort and spa is another Hwy 111 hideout and feels fancy without the fuss. Their lobby bar is a great home base for a catch up with a friend or to start/end a flirty date night. Sure, they have all the classics, but they also have a negroni. Sbagliato. With prosecco. Just kidding–it's a Mexican Summer Negroni pairing the Italian classic with the Mexican favorite. And it's equally as stunning. Or you can just bathe yourself in champagne a la Marilyn Monroe.
Drink like Morgan Wallen and order the Mamma's Little Yella Pils.
Sparrows Lodge is a little bit of a departure from the other hip hotels that line Hwy 111. This big red barn has been reimagined into a chic boutique with an oversized aquatic centerpiece and a honky-tonk hangout for guests to mill about and mingle. Dubbed The Barn Kitchen, this quaint corner of the hotel offers a refined take on rustic American cuisine plus some adult bevvys to wash it all down. I know you don't always wake up in the morning and pour yourself a strong one, but if you are feeling a little bit country and a little less rock 'n' roll, we recommend the light and refreshing Mamma's Little Yella Pils. We're sure country icon Morgan Wallen would approve.
Jane Adler is a marketing and branding consultant by trade, but a writer by preference. She shares a name with Meryl Streep's iconic character from It's Complicated and is presently trying to manifest that life (particularly that Santa Barbara house) for herself. Jane is an avid consumer of content and carbs and often used the latter to write on the former.