This Modern Convenience Store Is Changing the Game
A modern convenience store with locations in Encinitas and La Jolla, MRKT Space is a one-stop shop with everything from hand-selected pantry staples and gourmet wines to unique gifts and curated dine-in menus. Owners Matt Power and Alex Brinis first dreamed up this concept where their friendship began in Perth, Australia, and they soon brought the concept to San Diego, bringing on Giorgio Saturnino as director of operations.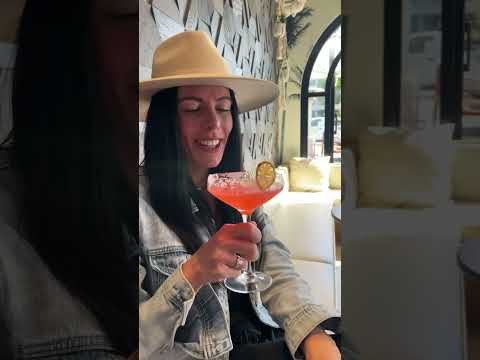 The trio brought this market-meets-eatery to life by leaning heavily on Italian influence and establishing a selection of high-quality goods. Every detail, whether it be shopping or dining, has been finely curated to create an elevated experience from morning to night.
5/7
"What really sets us apart is the quality—every item has been hand-selected, making sure everything we stock is the best of the best. We're a smaller market, so we want everything to be as high-quality as possible," Saturnino says. Stocking everything from ultra-fresh produce, dressings and sauces to chocolates and cookies, this gourmet market was designed to offer guests a little bit of everything, cutting down on option fatigue to make for a more enjoyable shopping experience. "For certain products, we're the only boutique retailer to carry them. Our partnerships, farmers and collaborations are very important to us—we try to source as close to us as possible, from Leucadia and Escondido to Southern California."
The dine-in experience has been made to reflect much of the same: the highest-quality ingredients span every dish, including MRKT Space's selection of charcuterie boards, classic Italian sandwiches, tasty flatbreads and lighter dishes like the burrata salad. But washing it down is just as important; for the daytime folk, locally roasted coffee is offered all day, and for the night owls, exceptional cocktails and an extensive wine selection await. Saturnino hand-selected every single wine you'll find on the shelves—an estimated 100 per shop with a selection of reds, whites and sparkling versions you won't find elsewhere! "We have an amazing cocktail menu as well; our Moonlight Margarita is made with Solento Organic Tequila Anejo, which is distilled here in Encinitas." Other favorites include the coffee-forward espresso martini and the crowd-pleasing Aperol spritz—two Italian classics, no doubt.
Where there is food, there will be community, and every community cultivates a vibe. The sense of community and connection felt throughout both MRKT Space locations is a warm, casual yet elevated feel made possible by every fine-picked detail making up the whole picture. Apart from the menu and shop items that you'll surely be drooling over, Powers also emphasizes the subtle nuances working behind the scenes.
"It's all in the small details–the things you don't see. They're all working together to create the relaxed vibe without you even noticing."
Without revealing all of the secrets, the MRKT Space experience also lends itself to a choose-your-own adventure type of feel, making every guest free to choose what suits them best. At any given time of day, you'll find strangers mingling by the wine collection, old friends sitting down to catch up and guests popping in for a grab-and-go meal.
5/6
MRKT Space patrons, rejoice! A third San Diego location is in the works. The team will be expanding into an all-new space in the Bankers Hill neighborhood, bringing the same day-long dining and shopping options–but with a focus on a slightly more elevated, intricate nighttime menu. "There will be a menu change at 4 p.m. to truly focus on the dinner experience," Saturnino notes. The future is bright for San Diego's one-stop shop, and we look forward to seeing what pops up next!
MRKT Space | Encinitas
782 N Coast Hwy 101
Encinitas, CA 92024
760.704.8156
MRKT Space | La Jolla
2202 Avenida de la Playa
La Jolla, CA 92037
858.500.7484