Zero-Waste Initiatives, Energizing Water and Nutrient-Dense Foods Clean Up Both the Planet and Your Lifestyle
We appreciate picturesque views more than most, but in addition to the Instagram roundup of landscapes you've explored this year, enact real change with easy and accessible ways to go green. Earth Day (on April 22) is a gentle reminder to spruce up our lifestyle habits and promote the longevity of our planet. Laguna's dazzling coves, Trabuco's rolling hills and Newport's flowering Back Bay wouldn't be as stunning as they are without a lot of love and appreciation. Protect the natural environment that doubles as our home with eco-friendly habits for overall wellness. Here are six ways you can make an impact this Earth Day and every day in Orange County.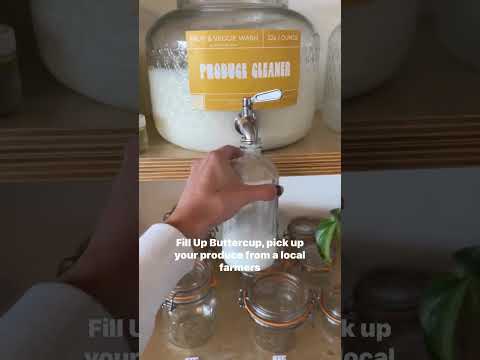 A wardrobe refresh does not have to break the bank—or the planet. Fast fashion is one of the leading global pollutants. Shop secondhand—you'll be surprised at what you might find! Goodwill of Orange County is a pioneer in the sustainability movement, having integrated environmentally-friendly practices into their mission for more than a century. With a commitment to diverting more than 57 million pounds of goods from landfills each year, Goodwill of OC recognizes the importance of valuing both the environment and every individual. By shopping at their thrift stores, donating gently-used items, exploring their online marketplace, or treasure hunting at "The Bins," you can participate in the mission to create a better future for Orange County and our planet. As Earth Day approaches, supporting organizations like Goodwill of Orange County prioritizes sustainability and allows us all to work towards a brighter, greener future.
View this post on Instagram
One of the best ways to support a thriving planet is to reduce waste overall. Fill Up Buttercup provides a simple way to eliminate unnecessary waste in skin-care products. Their nontoxic and zero-waste shops in Costa Mesa and Huntington Beach encourage OC locals to stock up on everyday necessities like shampoos and laundry detergents in refillable containers. And the benefits go beyond reducing waste—you can also ditch the carcinogenic toxins from the drugstore skincare and cleaning products you may use. Not to mention their refillable glass jars can improve your overall home aesthetic! If rattan shelving, leafy pathos and uniform glass jars are your love language, get ready to fall head over heels for Fill Up Buttercup's brick-and-mortar storefronts. 
Ditch the Plastic and Visit the
Water Brewery
Water is a life-giving source for the planet and its people, but it's often not thought about seriously. It's energy that directly impacts vitality, which is a philosophy Water Brewery stands by. Achieve optimal energy and protect the planet from plastics with oxygenated alkaline water. Restorative water from Water Brewery is purified in a seven-stage reverse osmosis process. The end result is water that improves energy levels, metabolism and digestion to support total wellness. With monthly memberships, life-giving water is never out of reach. Memberships offer up to 40% off invigorating mineral water that can be refilled at Water Brewery's Costa Mesa, Huntington Beach and San Juan locations—or get it delivered right to your door!
Earth Day should be celebrated in the great outdoors! Opt for a beach celebration this year, soaking in the SoCal sunshine while cruising along the coast in style. The best part is, this can all be done without emitting harmful pollutants with a Newport Beach Moke rental. These classic open-air electric vehicles can be rented in Earth Day green, show-stopping red and playful pink varieties. Take a ride down PCH with the wind in your hair and your consciousness at ease. Moke electric vehicles can be rented for two to five hours and are the perfect means for zipping down the Balboa Peninsula—in honor of Earth Day, of course! 
Fermentation Farm is a gut-health guru's heaven with on-tap kombuchas and displays of homemade kimchis and krauts to promote total body wellness. Focusing on probiotic benefits, Fermentation Farm sells nutrient-dense goods that can't be found at typical grocery stores. Add Beef Bone Broth, Organic Coconut Zingy Yogurt, Napa Cabbage Kimchi and Garlic Krout to your shopping list and thank us later! A rule of thumb is to never go grocery shopping on an empty stomach, so dine at their deli before exploring the isles. Their Wild Line-Caught Tuna Melts are a local favorite! Fermentation Farm also hosts monthly workshops to expand your knowledge on all things gut health to empower you to start fermenting your own foods at home.
Support Your Local Farmers Market
Slow mornings gathering ruby-red berries, freshly baked sourdough and the crispest romaine in town is the ideal weekend routine. Shopping at your local farmers market offers a wholesome start to the day that sets you up for a nutrient-filled, delicious week ahead—all while supporting local farmers. Shopping at these markets benefits farmers directly, lets you get your hands on the freshest produce in town and eliminates third-party delivery systems. Every city has unique and delectable goods to share, but two of the best markets in Orange County are Irvine's Certified Farmers Market and the Laguna Beach Farmers' Market. Irvine has the largest selection of vendors in all of Orange County, and the salty sea breeze of the Laguna Beach Farmers' Market just can't be beaten. 
Lover of the beach, food and fitness, Emily enjoys exploring all sunny Southern California has to offer! She has a passion for sharing about her favorite local gems and began writing for Locale in 2022. On the weekends, find her creating recipes for her food blog or out in Laguna!